ATOS ScanBox
The ATOS ScanBox is a complete optical 3D measuring machine that was developed by GOM for an efficient quality control in the production and manufacturing process. Nine models are available for different part sizes and applications. Whereas mechanical measuring machines capture data in a point-based or linear manner, optical 3D coordinate measuring systems provide full-field deviations of the 3D actual coordinates and the CAD data.
GOM Sensor Technology
The core of all ATOS ScanBox systems is the ATOS 3D scanner. The ATOS sensors provide full-field 3D coordinates for each individual measurement. Up to 16 million independent measuring points are captured within 1 to 2 seconds. The measuring data is characterized by very high detailed reproduction, thus also enabling very small component features to be measured.
Complete System From a Single Source
The ATOS ScanBox from GOM is an all-in-one system consisting of hardware, the ATOS Professional software and an additional software module – the Virtual Measuring Room (VMR). Before being executed, all robot movements are simulated in the virtual measuring room and checked for safety. After acquiring the data, the software computes a polygon mesh of the component's surface and the actual data of the inspection feature plan. The actual data is compared with the nominal data and displayed in a report.
ATOS ScanBox Series
GOM has developed an optical desktop scanner
Standardized Quality
The ATOS ScanBox is a standardized optical 3D measuring machine, which is certified in accordance with the machinery directive. There is no risk for the customer in terms of costs, performance or delivery date – in contrast to projected individual systems.
Robust Automation Components
The entire kinematics is based on robust automation components instead of precision mechanics. The machines are hardly subject to any wear even under harsh ambient conditions and retain their full accuracy.
High Measuring Speed
Compared to a traditional tactile CMM, the ATOS ScanBox can reduce the measuring and inspection time for a component by more than half.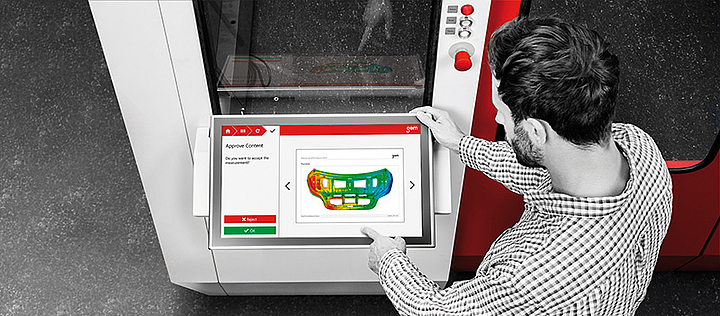 Simple Operation
The Kiosk Interface is a special user interface for a simplified control of the ATOS ScanBox. The software handles the entire process control and performs the measuring and inspection procedure automatically.
Low Space Requirement
All ATOS ScanBox models are characterized by their compact design. The ATOS ScanBox models 4105, 5108 and 5120 do not have to be anchored in the floor of the factory or on special measuring tables.
Short Delivery Times
An ATOS ScanBox is usually supplied ex stock at short notice.