ATOS ScanBox Series 8

With the ATOS ScanBox Series 8, GOM is offering a measuring system that can measure complete vehicles both outside and inside. The main application areas are analyses in Meisterbock and Cubing, inspection of complete vehicles and quality control in body manufacturing. Measurements from several components can be merged virtually in order to evaluate information about flush and gaps. Other areas of application include, for example, the scanning of cast blanks, quality control of milled tools and tool maintenance.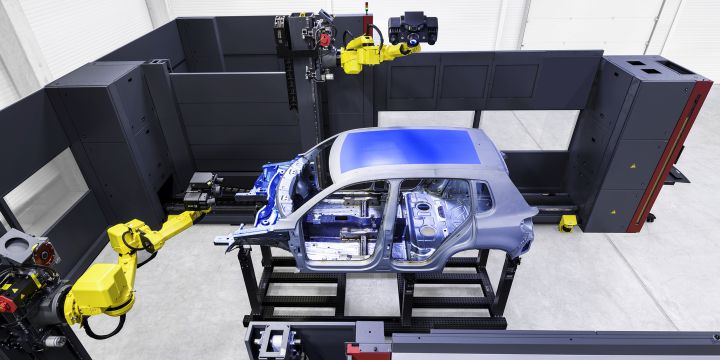 Two 8-Axis Kinematic Systems and Sensors in Duplex Operation
The new GOM 8-axis kinematic concept enables the measurement of complete car bodies from above, below, from the side and inside, while at the same time taking up very little space. Series 8 of the ATOS ScanBox also enables the independent measurement by two robots on two different components.
Extensibility
Series 8 of the ATOS ScanBox can be extended within the series by one or two rotation table working areas. The upgrade offers the possibility of responding quickly and flexibly to production changes and of making adjustments with regard to increasing the throughput.
Control Tower
All safety systems such as the automatic safety light sensors, floor scanners and the safety gate system are controlled by the control tower. It also provides information about the machine status, serves as a robot controller and contains the image-processing computer. Thanks to the mobile operator station, the ATOS ScanBox can be operated and used for teaching from various locations.
Loading Concept
The ATOS ScanBox Series 8 can be loaded with a driverless sandwich panel transport system including a track system, drive computer and safety systems. Other loading systems, e.g. cranes, can also be used.