ATOS ScanBox Series 5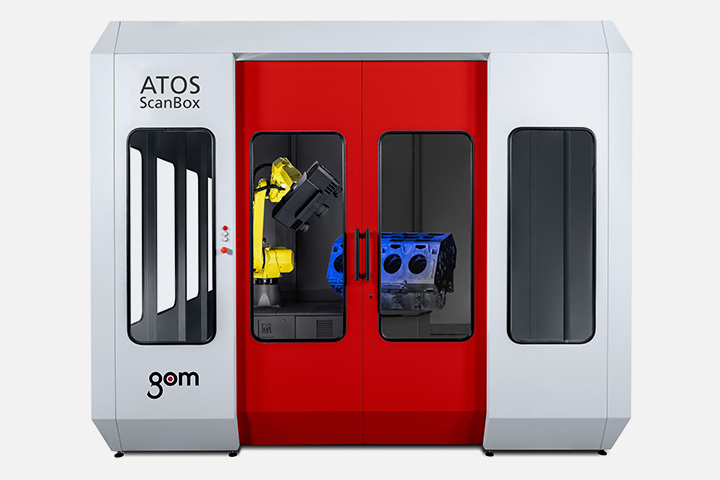 Both ATOS ScanBox models use ATOS Triple Scan sensors of the highest performance class. Thanks to the automatic precision calibration, high levels of accuracy are also achieved with large parts. As the relative position between the component and the sensor is constantly monitored throughout the entire measurement, interfering ambient influences can be detected and eliminated.
Mobility
The Series 5 machines are designed in such a way that they can be assembled and dismantled within one day. They can be quickly and easily transported from one location to another.
Module System for Robot and Rotation Table
The robust machine housing contains all components of the ATOS ScanBox. As a 100 - 240 V power supply is used and the measuring system only weighs approx. 900 kg, it can be used for measuring in almost all premises. The sliding door is designed in such a way that it can be loaded with a crane.
High Detail Image Resolution
In addition to the robot and the rotation table, the entire control, safety and power electronics system is located in or on the modules, which are the size of a euro pallet and which can be easily moved with a pallet truck.
ATOS ScanBox 5108
Parts up to 800 mm in size are inspected with the 5108. Due to the small dimensions of this box, manufacturers of turbines, fans, blisks and cast housings often opt for this model. With airfoil inspections, sharp radii can be recorded in terms of their position and contour with a detailed image resolution of more than 20 measuring points per mm.
ATOS ScanBox 5120
GAs parts of up to 2000 mm in size can be easily measured with the 5120, this model is mainly used for larger parts such as interior components of vehicles. This ATOS ScanBox is also often used in foundry and forging applications, e.g. for inspecting cast parts, sand cones and models.