ATOS ScanBox Series 4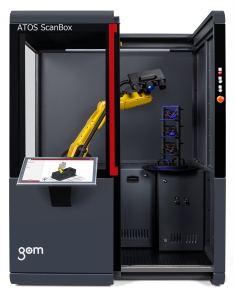 Injection and die-cast parts and their tools, molds, stamped and drawn parts often have very complex contours and connection geometries which have to be checked during the series and batch production ramp-up. The ATOS ScanBox 4105 is an efficient 3D measuring machine for these applications.
Optimized Kinematics
The ATOS ScanBox 4105 shares its kinematic concept with the large measuring machines of Series 5 and 6: The ATOS sensor is attached to a robust and fast industrial robot. The components to be measured are positioned on a rotation table to enable the sensor to measure all the areas of the object from above and below with short distances. As the entire kinematics is controlled by a single electronics system, robot and rotation table can move synchronically, and at the same time, potential collisions are monitored.
Plug & Play
The robust machine housing contains all components of the ATOS ScanBox. As a 100 - 240 V power supply is used and the measuring system only weighs approx. 900 kg, it can be used for measuring in almost all premises. The sliding door is designed in such a way that it can be loaded with a crane.
High Detail Image Resolution
In the ATOS ScanBox 4105, ATOS sensors with the smallest individual measurement field of 80 x 60 x 60 mm³ can be used. As a result, it is possible to measure details which are only several tenths of a millimeter in size.
Standardized Quality
The ATOS ScanBox is a standardized optical 3D measuring machine, which is certified in accordance with the machinery directive. There is no risk for the customer in terms of costs, performance or delivery date – in contrast to projected individual systems.
Measuring Uncertainty in Accordance With VDI 2634
The requirements in terms of measuring uncertainty are high for nearly all the applications of the ATOS ScanBox 4105. The acceptance and monitoring of the system with traceable normals is therefore an integrated function of the software.
Two User Interfaces in One Single Software Program
The measuring room provides the specialist with all the functions of the ATOS VMR software for teaching, measuring and evaluating. The Kiosk Interface is activated in production. This way, parts can be measured at the press of a button using existing project templates.